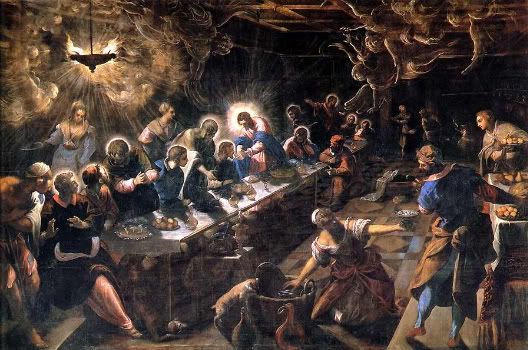 Let us prepare for the Last Supper with Our Lord.
Dom Gueranger
writes of the Mass of the Lord's Supper in
The Liturgical Year, Vol. VI
:
The Mass of Maundy Thursday is one of the most solemn of the year; and although the feast of Corpus Christi is the day for solemnly honouring the mystery of the holy Eucharist, still, the Church would have the anniversary of the last Supper to be celebrated with all possible splendour. The colour of the vestments is white, as it is for Christmas day and Easter Sunday; the decorations of the altar and sanctuary all bespeak joy, and yet, there are several ceremonies during this Mass; which show that the holy bride of Christ has not forgotten the Passion of her Jesus, and that this joy is but transient. The priest entones the angelic hymn, Glory

be to

God in

the highest!

and the bells ring forth a joyous peal, which continues during the whole of the heavenly canticle: but from that moment they remain silent, and their long silence produces, in every heart, a sentiment of holy mournfulness. But why does the Church deprive us, for so many hours of the grand melody of these sweet bells, whose voices cheer us during the rest of the year? It is to show us that this world lost all its melody and joy when its Saviour suffered and was crucified. Moreover, she would hereby remind us, how the apostles (who were the heralds of Christ, and are figured by the bells, whose ringing summons the faithful to the house of God), fled from their divine Master and left Him a prey to His enemies.
Fr. Mark explains the mystery of the Sacred Triduum, saying
:
The annual celebration of "the most sacred Triduum of the crucified, buried and risen Lord" is the liturgical, theological and spiritual center of the Church's life and "the culmination of the entire liturgical year." The Paschal Triduum begins with the Vesperal Mass of the Lord's Supper on Maundy Thursday, continues through the Friday of the Lord's Passion, reaches its summit in the Solemn Paschal Vigil, and comes to a close with Sunday Vespers of the Lord's Resurrection.

Gregorian Chant
As an integral element of the Sacred Triduum, Gregorian Chant takes its place in the complexus of sacred signs by which the Paschal Mystery is rendered present to the Church, and the Church drawn into the Paschal Mystery. The chant of the Church is thus essentially related to the Paschal Mystery and to the new life which it imparts. The transcendent value of liturgical chant, especially during the annual celebration of the Paschal Triduum, is properly theological and spiritual. The chants of the Paschal Triduum constitute therefore a point of reconciliation and unity "between theology and liturgy, liturgy and spirituality." What Father Alexander Schmemann wrote concerning the Paschal Triduum of the Byzantine liturgy and its hymnography is also true, mutatis mutandis, of the liturgy of the Roman Rite and of its proper chants:


The liturgy of the Paschal Triduum -- Holy Friday, Great and Holy Saturday and Sunday -- reveals more about the "doctrines" of Creation, Fall, Redemption, Death and Resurrection than all the other "loci theologici" together; and, let me stress it, not merely in the texts, in the magnificent Byzantine hymnography, but precisely by the very "experience" -- ineffable yet illuminating -- given during these days in their inner interdependence, in their nature; indeed as epiphany and revelation. Truly if the word mystery can still have any meaning today, be experienced and not merely "explained," it is here, in this unique celebration which reveals and communicates before it "explains"; which makes us witnesses and participants of one all-embracing Event from which stems everything else: understanding and power, knowledge and joy, contemplation and communion.

The Whole Person in the Whole Church
Participation in the sacred liturgy makes "witnesses and participants" of those who thus experience the Paschal Mystery as something revealed and communicated, men and women capable of saying, "We have seen the Lord" (Jn 20:24). Paradoxically, while each worshiper must enter personally into the Paschal Mystery, making a personal profession of faith at Baptism, and uttering a personal Amen to the Body and Blood of Christ in the Eucharist, the effect of such a personal engagement is participation in the Body of Christ and the unity of the Holy Spirit. The saving mystery of Christ's death and Resurrection embraces and sanctifies the integral human person within the communion of the Church. The symbolic language of the liturgy therefore engages the human person bodily, emotionally, spiritually and intellectually. (Read entire post.)
"And there appeared to Him an angel from Heaven, strengthening Him. And being in an agony, he prayed the longer." Luke 22:43