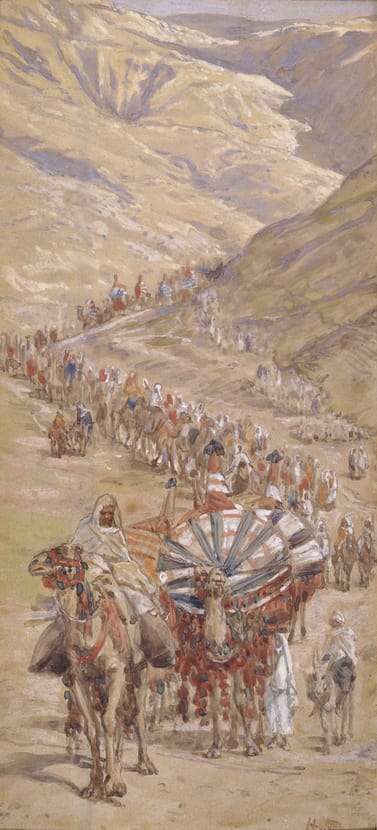 The Caravan of Abraham by James Tissot: "And the Lord said to Abram: Go forth out of thy country, and from thy kindred, and out of they father's house, and come into the land which I shall shew thee." Genesis 12:1
It is
Quinquagesima Sunday. According to

New Advent

:
The period of fifty days before Easter. It begins with the Sunday before Ash Wednesday, called Dominica in Quinquagesima....
For many early Christians it was the beginning of the fast before Easter....For some, Quinquagesima marked the time after which meat was forbidden....In many places this Sunday after and the next two days were used to prepare for Lent by a good confession; hence in England we find the names Shrove Sunday and Shrovetide.
As the days before Lent were frequently spent in merry-making, Benedict XIV by the Constitution "Inter Cetera" (1 Jan., 1748) introduced a kind of Forty Hours' Devotion to keep the faithful from dangerous amusements and to make some reparation for sins committed.
In the words of Dom Gueranger for Quinquagesima Sunday:
We are commanded to use this world as if we used it not; to have an abiding conviction of our not having here a lasting city, and of the misery and danger we incur when we forget that death is one day to separate us from everything we possess in this life.




~from Abbot Gueranger's The Liturgical Year, Vol. IV
More
HERE
.